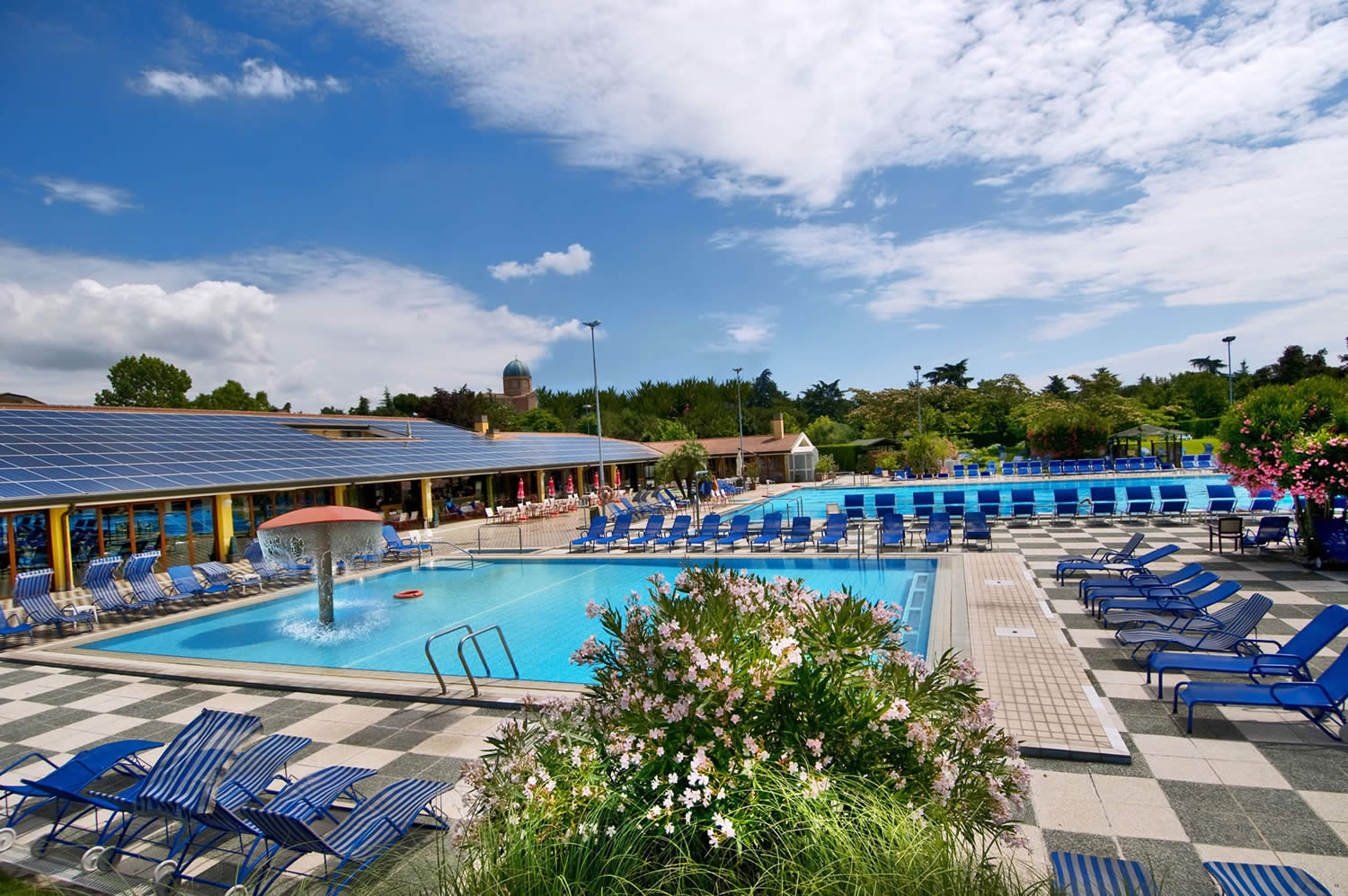 Included Services
On this page you will find useful information and all the services that will complete your stay in our Hotel Petrarca Terme.
Swimming-pools
The entrance to our 8 thermal swimming-pools is included in the packages.
Otherwise the price is € 30,00 per person for the whole stay.
Our thermal swimming-pools are open daily from 8 am. to 10.30 pm.
At your disposal 8 thermal swimming-pools and 1 Olympic-size swimming pool (Further information you will find on the provided page).
The bathrobe is included in the packages or is free for those guests who undergo thermal treatments; otherwise the price is € 10,00 for the whole stay.
You can buy sleepers (€ 3,00 each pair) and take bath towels for rent (€ 4,00 each).
In the huge park surrounding the outdoor pools you will find sun loungers and umbrellas; there are also plenty of loungers around the indoor pools.
Vital Center 1 is an exclusive ambience where you can enter with the provided badge (upon payment of € 7,00 per person).
Vital Center 2, near the indoor swimming-pool, is free of charge and is equipped with Finnish sauna, Hammam, Ice waterfall
Health & wellness
At our hotel you can take advantage of the thermal muds, known for millennia for their beneficial properties.
Book a course of mud therapy or inhalations!
In addition, we also have a salt cave: an environment entirely covered with salt, where you can breathe strongly iodized air, ideal for preventing and treating respiratory disorders.
Instead, for real pampering for the body, our therapists are available to perform a whole series of therapeutic, relaxing, Ayurvedic massages or beauty treatments for face and body.
Hotel & services
Undercover and outdoor parking.
It is possible to reserve a garage space at a cost of € 6,00 per day.
Free Wi-Fi in all areas of the Hotel.
Restaurant
Breakfast: served daily from 7.15 to 10.15 in the restaurant. Breakfast can be served in your room at a charge of € 5.00, by placing your order with the restaurant using internal number 308 on the telephone.
Lunch from 12.30 pm to 1.45 pm.; dinner from 7.30 pm to 8.45 pm. It starts with salads and starters, à la carte menu with a choice of four first courses and four main dishes. Cheese trolley, buffet with homemade desserts and fresh fruit. All topped off with an extensive wine menu.
Snack bar: a snack bar is available near the indoor pool during the winter for a tasty break between one swim and the next. Another bar is located next to the Olympic-size swimming pool, with a large window and tables overlooking the large park.
Sport & free time
A holiday is by definition about detaching from everyday life, free to do what you like with your time and devote yourself to things that make you feel good. That is why we offer activities that will benefit both your body and mind!
Water Gym: from Monday to Friday, from 3.30 pm to 4.45 pm.
A Gym is open every day.
Golf: golfers can book Green Fees directly at the hotel at special rates (also before arriving at the hotel) with subsidised prices for the Padova (27 holes), Montecchia (27 holes) and Frassanelle (18 holes) Golf Clubs, all of which are just a short car ride away.
Bicycles: free comfortable bicycles for exploring the area.
Tennis: we dispose of 2 tennis courts, one indoor with synthetic floor and one outdoor with earthen floor.
Excursions: the strategic location of Montegrotto Terme makes it the perfect base for cultural trips to Padua, Venice, Verona, Vicenza, the Palladian villas, the villas of the Brenta Riviera, the towns and villages in the Euganean Hills and many other destinations, which Guests can explore on their own following the recommendations of our reception staff or with organised excursions.
Social
You can follow us and keep in touch with us on our social networks: