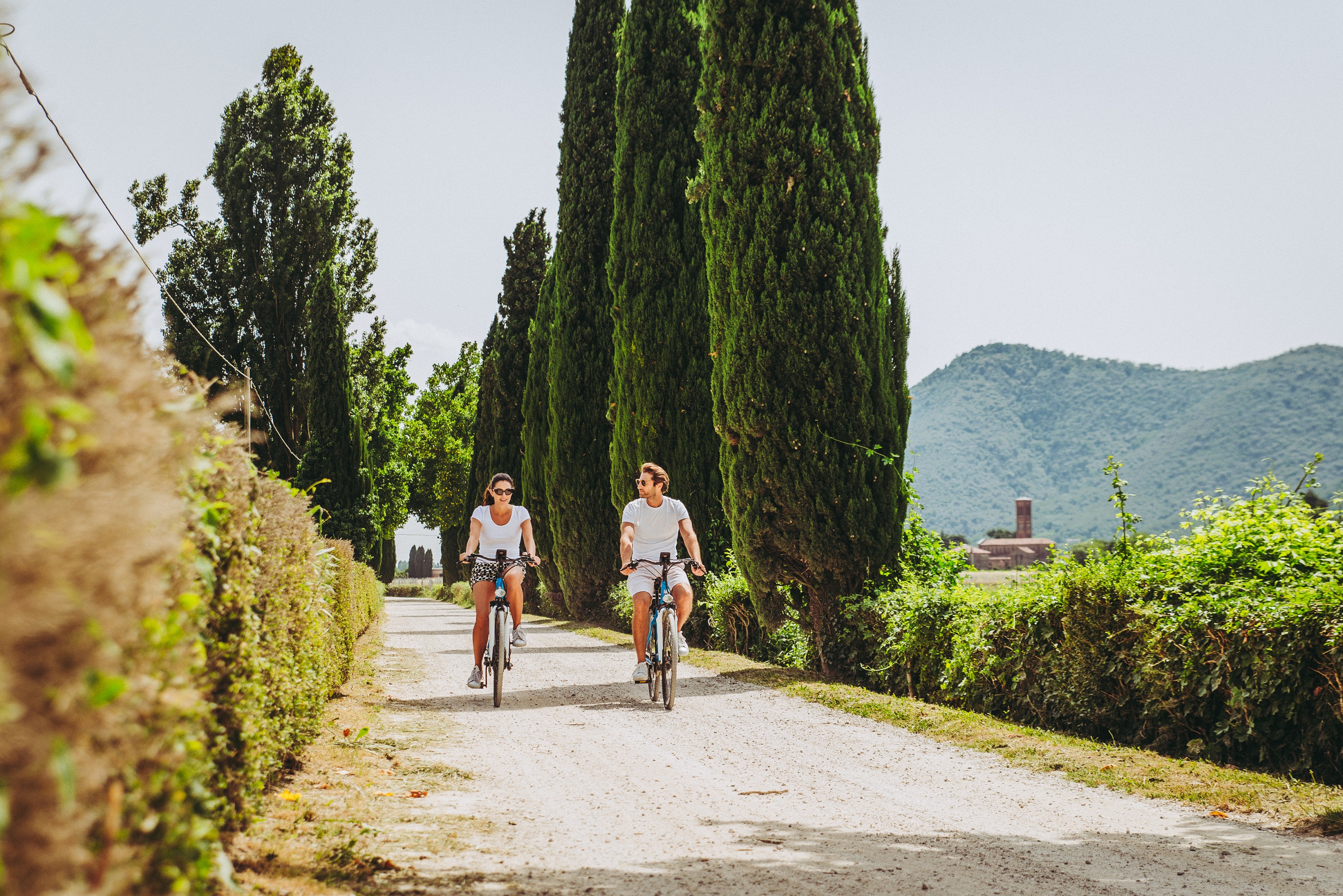 Discover the E2: the Euganean Hills Ring
Thanks to this excursion (around 64 km.) you will discover the perimeter of the Euganean Hills with its historical, hydraulic, architectural and natural points of interest.
From our Hotel Petrarca Terme in Montegrotto Terme take the E2 cycling path towards Battaglia Terme, where you first meet the imposing Catajo Castle.
Then you will enter in Battaglia Terme center and follow the path along the Battaglia Canal to Monselice.
When you reach Monselice, visit the main square, the castle, and the nearby walkway of the Jubilee Sanctuary of the Seven Churches, which ends with Villa Duodo on the Rocca mount on the top of which is a medieval stronghold.
Going south, you will cross wide areas of reclaimed land.
From this spot you will admire the southern stretch of the hills: on the background, the highest peak, Mount Venda (601 m.), recognizable from the high TV relay station on it, and towards the west you can discern the towers of Este Castle.
After crossing the beautiful historic center of Este, you will follow again the Bisatto Canal, which flows alongside an ancient brickworks, in the locality of Cinto Euganeo, that hosts the Euganean Hills Geo-Palaeontological Museum which is worth a visit for fossil and mineral lovers.
The route goes on towards Mount Lozzo, at the foot of which you will find the Valbona Castle, and finishes at Vo' Vecchio in a past times atmosphere.
In Bastia di Rovolon, you will soon plunge into the lovely vineyards where the famous red wines and the well-known fragrant Moscato Fior d'Arancio wine are produced.
At the end of the country road you will find an easy climb, to then descend towards Montemerlo.
On the extreme north-eastern border of the hills, you'll find the Praglia Abbey, an authentic Renaissance jewel and a remarkable Benedictine center for spirituality.
Then, you will have only 10 km to go back to the hotel and finally enjoy your well-deserved recovery in our thermal swimming pools.