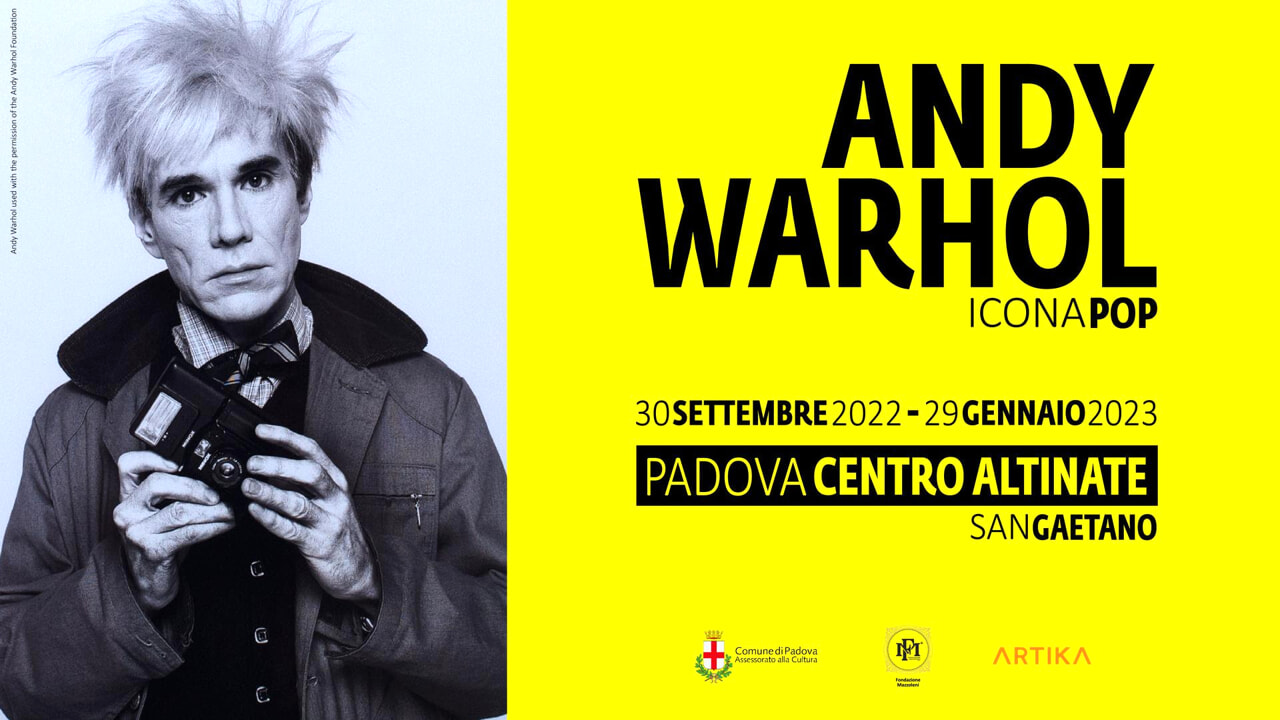 Andy Warhol exhibition in Padua
"Andy Warhol. Pop Icon" in Padua from September 30, 2022 to January 29, 2023
The exhibition
The exhibition in Padua aims to investigate the poetics of the genius of Pop Art, focusing on his representation of American society and culture.
His works include the brands that populated the advertising imagery widespread in the United States between the 1960s and 1970s, such as the iconic Campbell's soup.
Alongside the brands, Warhol represents the icons of the show, who are entitled to a similar treatment with respect to products.
The face of Mick Jagger, Sylvester Stallone or the iconic Marilyn are "treated" as consumer products coated with the same mystical aura with which Warhol rethinks his "objects" to transform them into an artistic artifact.
The exhibition is divided into thematic sections, starting with the biographical portrait of the great New York artist.
More than 150 works give life to a pressing journey into the eccentric world of Warhol, the pop icon "par excellence".
To know more: The style
Andy Warhol created his works following a very specific scheme: visual isolation of the image, assimilation of advertising language, use and repetition of bright colors.
His procedure aimed to reveal the true nature of modernity: indifference, materialism, media manipulation, economic exploitation, irrepressible consumerism, stardom and the creation of false needs and false aspirations in the masses.
The simplicity of Warhol's images still guarantees their immediate usability today.
The repetition of identical images recalls the repetitiveness of images used by mass culture to sell goods and services.
Marylin Monroe, absolute icon
The absolute icon is Marilyn, painted just after the suicide, which took place on 4 August 1962. Warhol's work thus becomes the portrait of a saint against a background of gold leaf like a religious icon.
But the beauty and happiness of the Hollywood diva adored by the public and envied by women, were only a mask, in reality unhappiness also belongs to the world of celebrities.
The first work with this subject was exhibited at Warhol's first New York exhibition in the same year.
The photograph used for all of the actress's paintings and prints was taken in 1953 by Gene Kornman for an advertisement for the film Niagara.
To build this representation, Warhol started from the end: first he defined the background, then the hair, the lips, the eyelids, up to the silk-screened photo image of the person portrayed.
Violent color zones are not mere visual accents or stylistic quirks, but serve to emphasize Marilyn's flamboyant personality created by the media.
Useful Information:
Address: Centro Culturale Altinate San Gaetano, Via Altinate 71, Padua
Opening hours: Wednesday to Friday: 10.00 am - 1.00 pm and 3.00 pm – 7.00 pm; Saturday, Sunday and holidays: 10.00 am – 7.00 pm
Visiting time: 1 hour (approximately)
Warnings: On weekends, access is not guaranteed without a ticket purchased online.
Tel. 351 809 9706