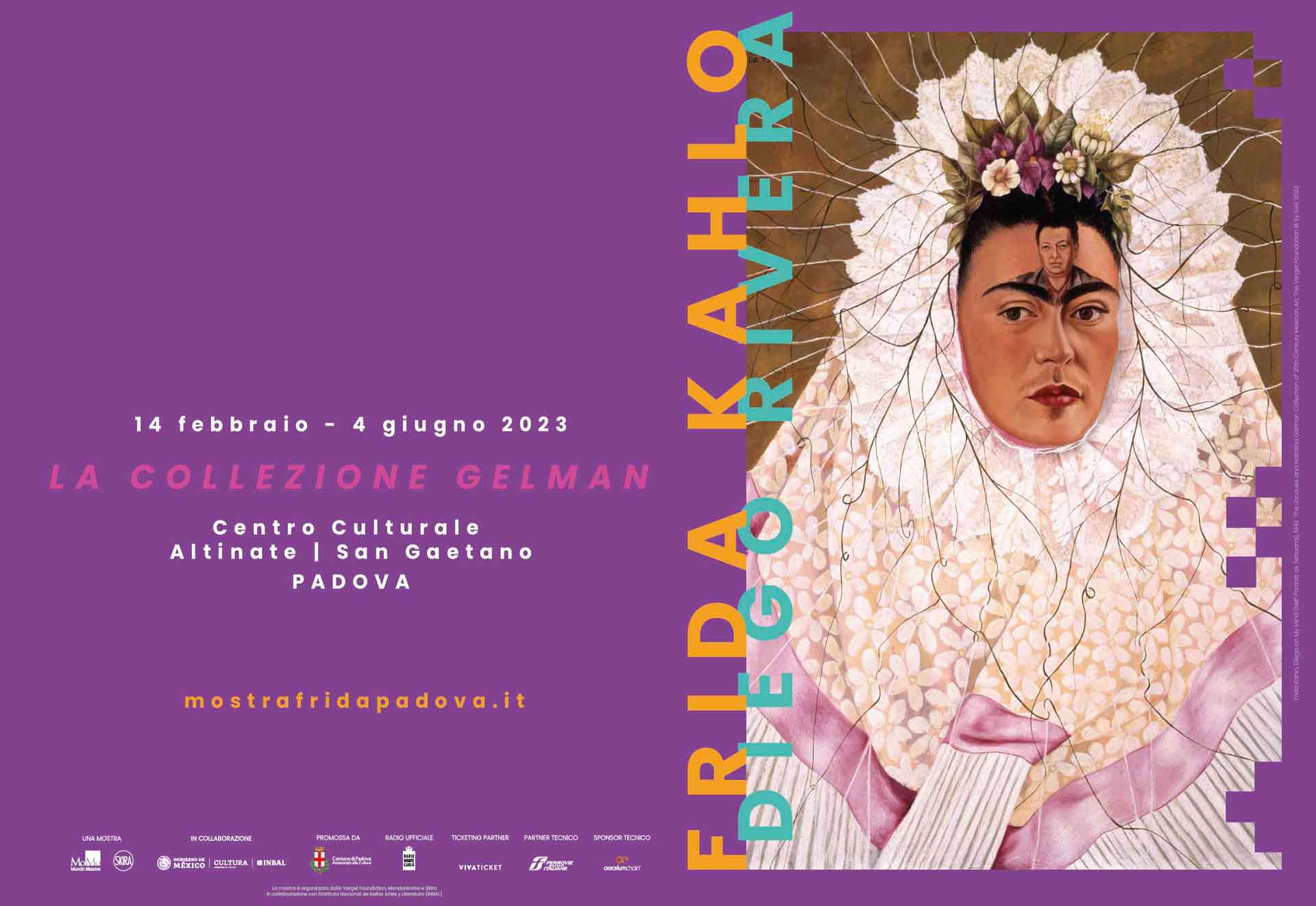 Frida Khalo and Diego Rivera exhibition in Padua
The only Italian stage of one of the most intense love stories in the history of art.
From 14 February to 4 June 2023, the "Altinate San Gaetano" Cultural Center in Padua hosts the only Italian stage of the world tour of "Frida Kahlo and Diego Rivera", the major exhibition that tells the story of the two Mexican artists, who have become legends on a global level.
The fundamental nucleus of the works comes from the US collection of Jacques and Natasha Gelman, he a successful director and refined collector, she who, after his death, continues, with brilliant competence, to enrich the collection.
The spouses, whose collection counted on the best of contemporary European art, from Balthus, to Chagall, Giacometti, Matisse, Picasso, to the young Bacon, had a particularly intense relationship with the two Mexican artists, by whom they also had their portraits.
Thus, the various fundamental works of Frida Kahlo entered their collection, including her most famous self-portraits, and of Diego Rivera, present in the exhibition.
The exhibition
It is a choral exhibition, the one that is proposed at the San Gaetano. Alongside the great painting – there are 23 works by Frida Kahlo and 9 by Diego Rivera – photography is also on offer.
Finally, a very colorful section is reserved for Mexican costumes, whose colors reverberate in her works and in his works, from murals to oils on canvas.
It is the iconic, strong, lively Mexico that emerges in this exhibition, that land and those people who in the central part of the 1900s attracted intellectuals, artists, militants and adventurers from the Old Continent.
And no one like Frida Kahlo and Diego Rivera has been able to translate that world of passion, beauty, strength and suffering into art.
Frida Kahlo and Diego Rivera, February 14-June 4, 2023
Address: Altinate San Gaetano Cultural Center, via Altinate 70, Padua
Hours: Monday to Thursday and weekends: 10:00-19:30 / Friday: 10:00-22:00
Info and Reservations: 049/2010010