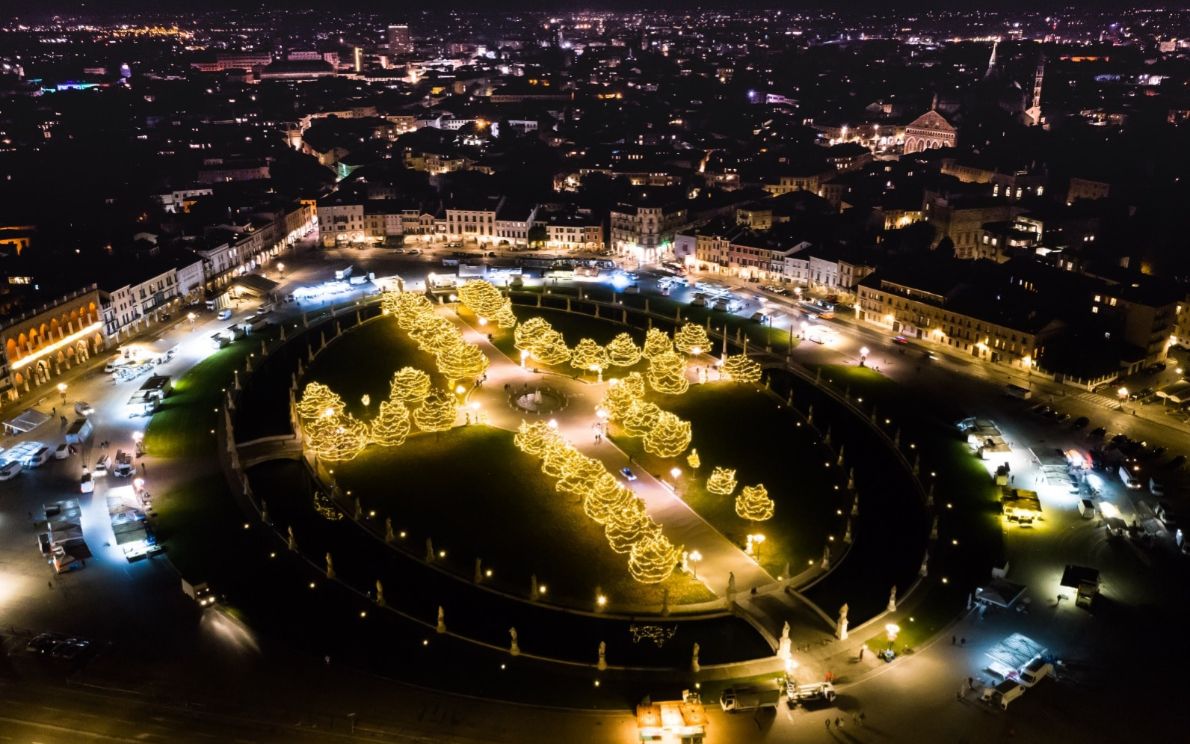 Christmas events in Padua and in the surroundings
In the historic center of Padua, but also in the immediate vicinity, there are many initiatives to animate the upcoming Christmas holidays.
In Padua you can breathe the Christmas atmosphere thanks to a series of events that bring the historic center to life.
The Christmas Markets with over 140 quality stands (food and non-food) are located in the streets of the historic centre, in Piazza Duomo and Piazza dei Frutti (at the foot of the famous "Salone"), where it is possible to find original ideas for gifts and enjoy chocolate hot, mulled wine and lots of desserts.
In Piazza degli Eremitani there is instead the Santa Claus Village, a magical and extraordinary place with a splendid vintage carousel with its elegant white horses where you can meet Santa Claus himself in his home until 9 December 2021
Videomapping
The main monuments of the city again this year will come to life in a dance of colours, shapes and music for a complete immersion in Christmas in Padua.
Videomapping will adorn the most important buildings in our city during the Christmas period and the shows will make everyone look up in a magical and virtual atmosphere.
The classic Christmas tree in front of the Town Hall
As usual, it is set up in the square between the Palazzo del Comune, the Caffè Pedrocchi and the University; a must for anyone who decides to spend a few hours in Padua.
Christmas in Montegrotto and Abano Terme
In the surroundings, Abano Terme has also prepared many events to welcome the many tourists.
The typical wooden houses in the pedestrian area are open with local handicraft objects and typical products of the area and also from other regions of Italy.
The videomapping will project images to the rhythm of Christmas music on the facade of the former Hotel Orologio, where right next to it a giant statue of Santa Claus comes out of the ground!
Definitely one of the most "instagrammable" places in the area!
Not just Christmas markets!
It will also be a Christmas holidays dedicated to culture and interesting exhibitions.
In addition to the pop colors of Andy Warhol's art and the deceptive games of optical illusions, Tutankhamun has landed in Padua and Venice to take you on a journey into the mysterious and fascinating world of the ancient Egyptians.
Finally, to travel even further in time, dinosaur skeletons arrived at the Padua Fair!
"Lost Hangar, Dinosaurs Revealed" is the evocative title of the largest ever collection of original fossils. For the first time in Italy it will be possible to admire authentic complete dinosaur skeletons. A course at the highest scientific level studied by a team of expert researchers including paleontologists and science communicators. 50 Virtual Reality stations will allow you to experience the epic battles of the dinosaur era.
The Christmas holidays have never been so rich and exciting!